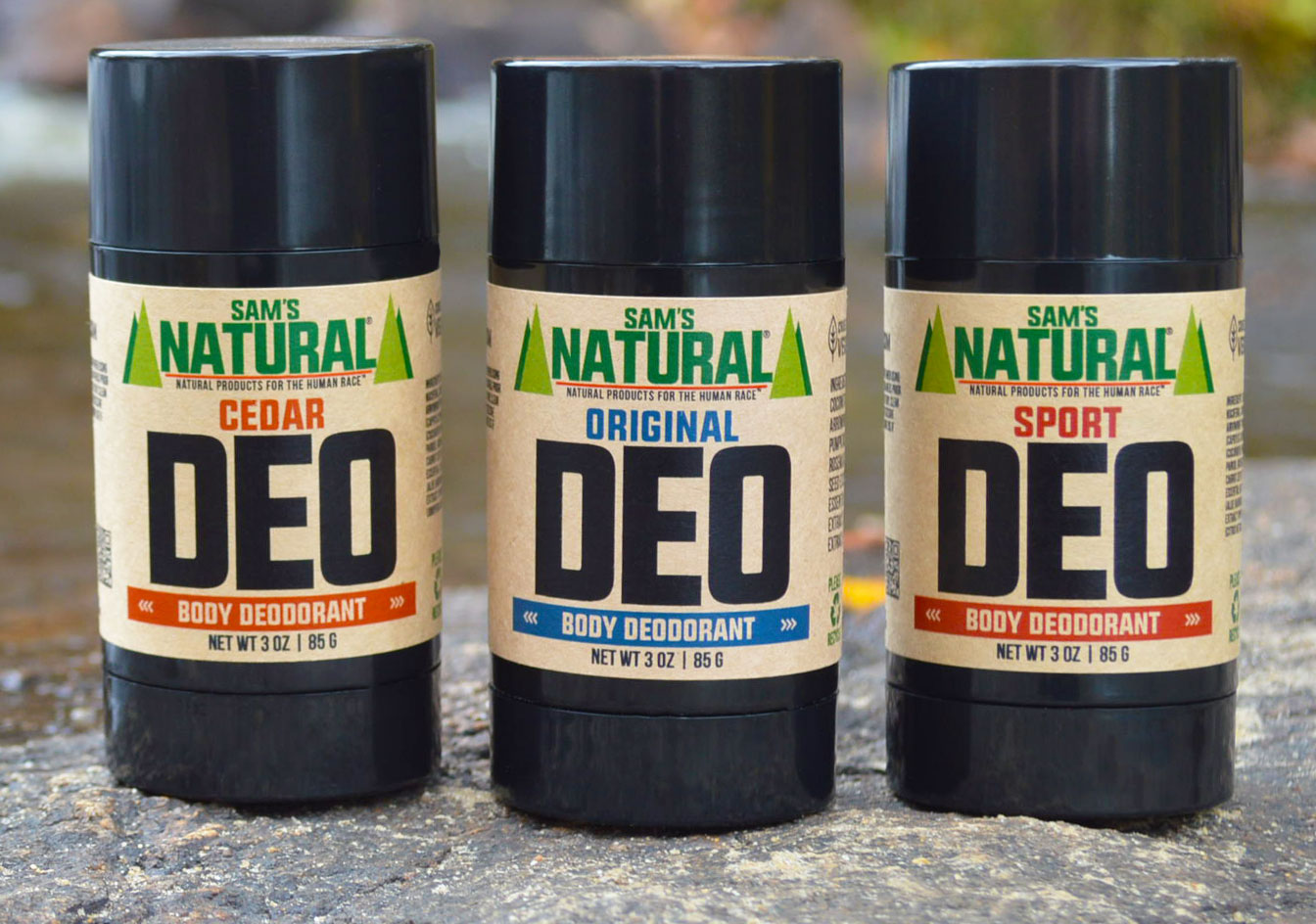 Natural deodorant doesn't mean you have to sacrifice effectiveness. In fact, Sam's Natural deodorants are revolutionizing the way people think about natural deodorant and are outperforming commercial deodorants. Read a review directly from a Sam's fan that made the switch from a commercial deodorant to a natural deodorant.
"I decided to take the plunge and go for the tobacco scented deodorant. Well let me tell you...this actually works BETTER than the Dove Men + Care deodorant that I was using before this. To my surprise, this deodorant lasted all day even into the next morning, I couldn't smell ANY body odor."
Our natural deodorants are handcrafted and powered by plant-derived ingredients but the greatest effectiveness comes from how we formulate them. We designed our natural deodorants for everyday life. Whether it's just your daily routine or an active schedule, you'll be able to walk tall with a natural deodorant that works.
OUR MAIN ODOR-BUSTING INGREDIENTS INCLUDE:
Baking soda

- to neutralize odor causing bacteria
Coconut oil

- to fight bacterial and fungal growth while moisturizing the skin
Arrowroot powder

- to absorb wetness
We are also extremely proud that our products are certified vegan and cruelty-free which simply means we don't test on animals and we don't use any animal ingredients in our products.
Our packaging is 100% recyclable and features a recycled kraft label.
SAM'S MAKES SCENTS
While we play it safe with our ingredients in our natural deodorants, we get pretty audacious with our scents. Feeling distinct and vintage? Choose Patchouli or Tobacco. Want to up your game? Choose citrusy Sport or woodsy Oakmoss. What we're trying to say here is you can match your mood, occasion or adventure with 17 awesome and intriguing scents.
Our most popular scent is Original which combines a blend of rich mahogany wood and creamy vanilla and makes a perfect first choice for anyone switching to a natural deodorant. If you really want to have some fun with it, try our Sage Lime, Leather or Wilderness. These are scents that you can't find anywhere else. If you're having a hard time choosing a scent (because a digital scratch and sniff doesn't exist yet) we'd be happy to help you choose.